Lithium battery 6.4kWh 200-282V | 1C | Battery-Box H6.4 | B-Box H - BYD

[BAT0526] Lithium battery 6.4kWh 200-282V | 1C | Battery-Box H6.4 | B-Box H - BYD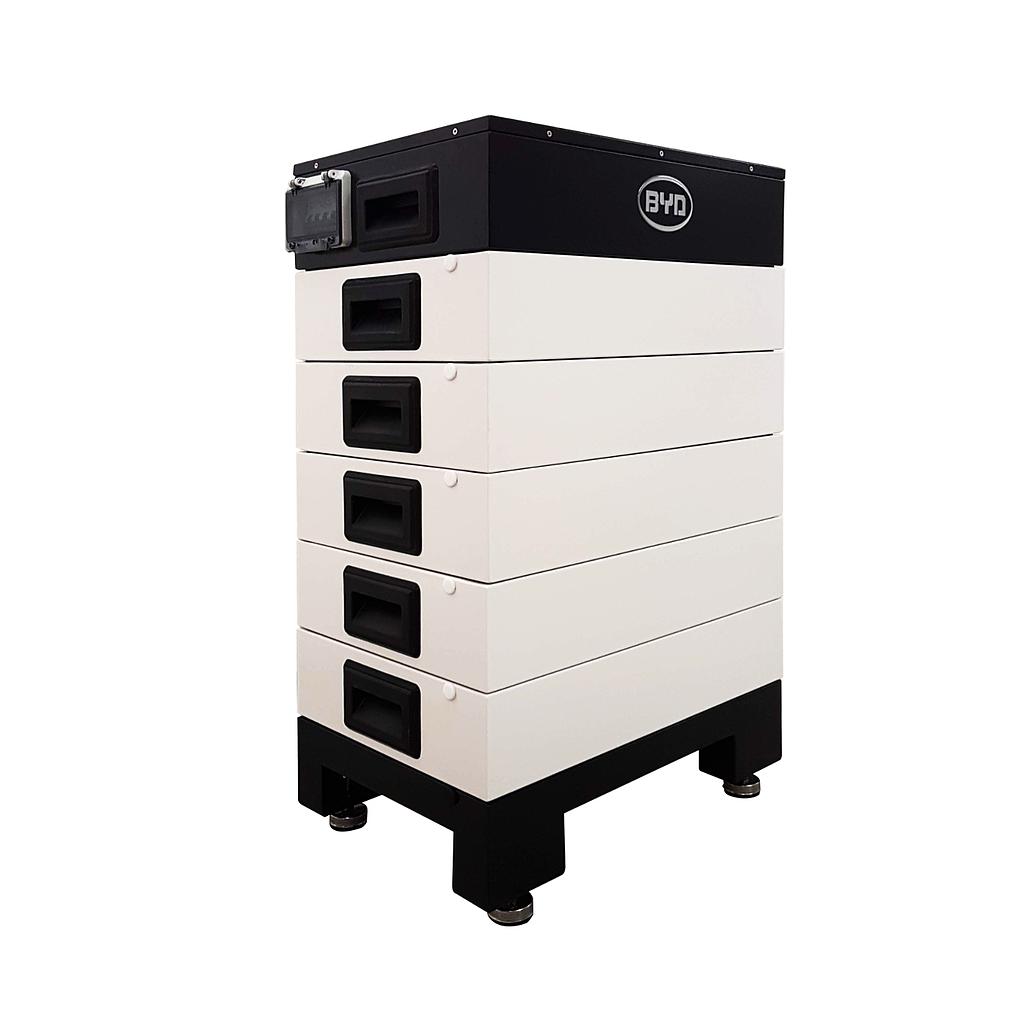 Lithium battery 6.4kWh 200-282V | 1C | Battery-Box H6.4 | B-Box H - BYD
[BAT0526] Lithium battery 6.4kWh 200-282V | 1C | Battery-Box H6.4 | B-Box H - BYD
---
..
---
The BYD B-BOX H lithium LiFePO4 solar battery range allows more than 6000 discharge cycles at 90%, has a 10 year warranty and stands as one of the market standards in quality and performance, especially for high reliability and self-consumption applications, where its capacity and efficiency make the difference.

These batteries consist of an upper part (BMU) and a lower support that allows the incorporation of five to nine BYD B-PLUS H 1.28 units of 1.28kWh. In this way, a capacity range from 6.4kWh to 11.5kWh is allowed. In addition, thanks to the incorporation of 5 modules, it is possible to expand the system and guarantee its scalability.
The BYD B-BOX H batteries are perfect for high performance installations for self-consumption and energy saving solutions thanks to the qualities of Li-Ion lithium such as its high charge and discharge capacity and its voltage values in HV.

BYD's B-Boxes have the highest power output in the industry, providing customers with greater performance. The system can reach speed C at a maximum of 1C and 2C at the peak to support critical loads such as A/C, pumps, etc.

The B-Box is designed with LiFePO4 chemical battery which has been widely recognized as one of the safest battery technologies. The LiFePO4 chemistry has stable structures and its thermal packaging temperature is above 480 ℃. As a result, the B-Boxes are designed for safe residential and commercial applications.
Esta es una vista previa de los productos vistos recientemente por el usuario.
Una vez que el usuario haya visto al menos un producto, este fragmento será visible.
Productos vistos recientemente
Specifications for Lithium battery 6.4kWh 200-282V | 1C | Battery-Box H6.4 | B-Box H - BYD
Informació sobre el producte

Model

B-Box H 6.4

Compatible Inverters

SMA/KOSTAL

Especificacions elèctriques generals

IP protection grade

IP55

Ambient temperature range (ºC)

-10/+50

Efficiency (%)

>95.3

Especificacions tècniques de la bateria

Modules per battery

5

Battery type

LiFePO4

Especificacions tècniques de l'inversor

Maximum output power (KW)

6,40

Parallel

Max. 5 sistemas en paralelo

Operating Voltage Range (V)

200-282

Peak output power in 5m (KW)

12,8

Dades físiques del producte

Height/box length (mm)

894

Normatives

Certificates

CE/UL1642/RCM/ Sicherheitsleitfaden Li-Ionen-Hausspeicher

Informació logística

Box width (mm)

580

Case depth (mm)

380

Weight with box (Kg)

148

Comunicacions

Communications

CAN/RS485

Filtros de búsqueda

Energy storage capacity (kWh)

6,40

Nominal voltage (V)

256

Garanties

Warranty (Years)

10