PHOTOVOLTAIC MATERIAL FOR SOLAR ENERGY INSTALLATIONS

Enter the code COMPRAONLINE when confirming your purchase and benefit from an extra 1% discount that can be combined with other discounts, whatever price you have.

Promotional code only applicable to orders placed through this online platform and indicating the code in the "check order" section of your cart.

MULTI-SMART MS-MPPT maximizing regulator
60A solar controller with possibility for 12, 24, 36 or 48V. With bluetooth via and monitoring via mobile APP with additional accessory.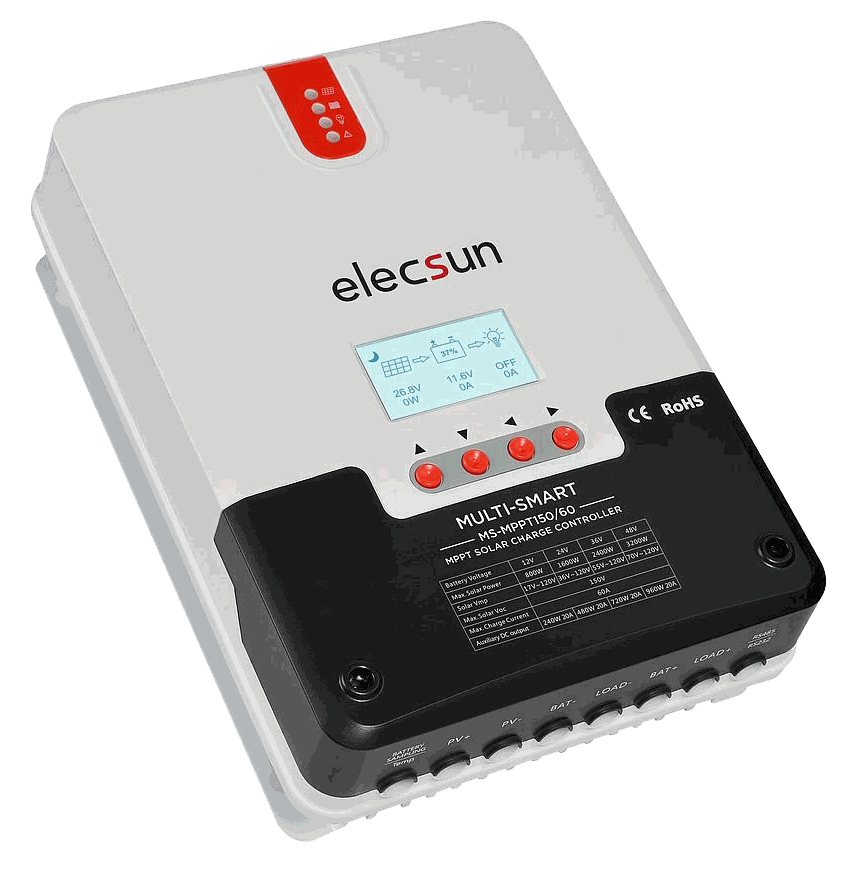 Brands of solar regulators
How does a solar charge

 controller work?
What is a solar charge controller for?

The solar charge controller is responsible for controlling the flow of energy circulating between  the solar panels and solar batteries avoiding overcharging and maintaining the optimum point of charge and discharge. This control is carried out by controlling the Current and Voltage parameters and will depend on the state of charge of the battery and the energy produced by the solar panels.
How to choose a solar controller?
Currently, there are two types of solar charge controllers for solar photovoltaic systems: MPPT regulators (Maximum Power Point Tracker) and PWM regulators (Pulse Width Modulation).
Depending on the type of installation and the capacities of the same it will be advisable to opt for a type of regulator and with characteristics that can maximize the full potential of the same, for example, for small solar installations PWM is usually used because the cost premium, while in larger installations usually comes out better the MPPT, because despite being more expensive, its efficiency is superior. That is why we recommend  contact us to receive personalized suggestions for each of the different situations.