PHOTOVOLTAIC MATERIAL FOR SOLAR ENERGY INSTALLATIONS

Enter the code COMPRAONLINE when confirming your purchase and benefit from an extra 1% discount that can be combined with other discounts, whatever price you have.

Promotional code only applicable to orders placed through this online platform and indicating the code in the "check order" section of your cart.

Victron Energy es una empresa holandesa consolidada en el sector de las energías renovables gracias a su gama de productos de calidad y fiabilidad que van desde equipos de potencia, inversores-cargadores, convertidores CC/CC, cargadores de batería, entre muchos otros.
Victron Energy destaca en el apartado  de sistemas eléctricos aislados donde es un referente en el mercado, es una marca de referencia gracias a su robustez y estabilidad a la hora de ejecutar procesos fotovoltaicos.
La empresa es líder en inversores de corriente solar para instalaciones para instalaciones de energía solar fotovoltaicas aisladas siendo considerados como la opción profesional predilecta de sistemas eléctricos independientes.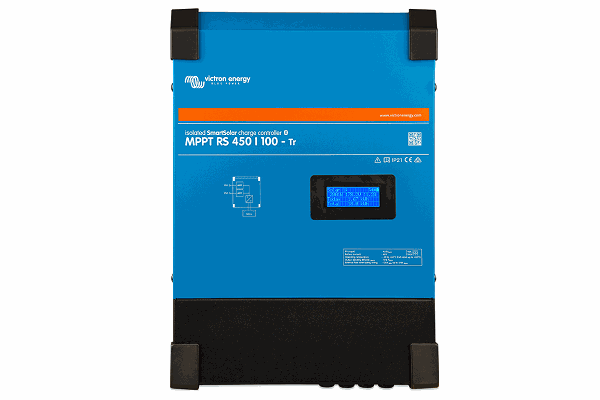 Regulador Solar MPPT RS Victron Energy
Los controladores de carga solar de Victron Energy MPPT RS SmartSolar son la solución para sistemas con grandes conjuntos fotovoltaicos conectados en serie que carguen bancadas de baterías de 48V CC. Este producto es perfecto para grandes sistemas de baterías tanto aislados como conectados a la red.

Ver más