PHOTOVOLTAIC MATERIAL FOR SOLAR ENERGY INSTALLATIONS

Enter the code COMPRAONLINE when confirming your purchase and benefit from an extra 1% discount that can be combined with other discounts, whatever price you have.

Promotional code only applicable to orders placed through this online platform and indicating the code in the "check order" section of your cart.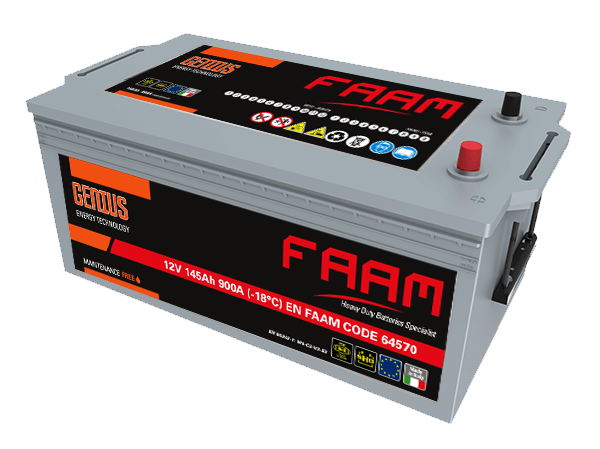 GENIUS FAAM
Como la serie GENIUS PRO, también GENIUS están equipadas con el innovador sistema FAAM S3 - Stop Shock System y la innovadora cubierta plana de doble laberinto, gracias a la cual son ideales para los usos más pesados. También la serie GENIUS está equipada con el separador especial de fibra de vidrio, que ha mejorado notablemente la resistencia a los ciclos de descargas profundas, asegurando una notable energía con potencias de arranque constantes en el tiempo incluso en condiciones críticas de vibraciones y temperatura. Además, están equipadas con electrodos/placas especiales de alto espesor en aleación de Pb/Ca/Sn y formulaciones especiales de materias activas, que no sólo no requieren de mantenimiento sino que también aseguran una resistencia más eficiente a las cargas más pesadas, en comparación con las baterías convencionales. La gama GENIUS está especialmente indicada para el uso intensivo en vehículos industriales pesados y maquinaria de trabajo y energía solar.