PHOTOVOLTAIC MATERIAL FOR SOLAR ENERGY INSTALLATIONS

Enter the code COMPRAONLINE when confirming your purchase and benefit from an extra 1% discount that can be combined with other discounts, whatever price you have.

Promotional code only applicable to orders placed through this online platform and indicating the code in the "check order" section of your cart.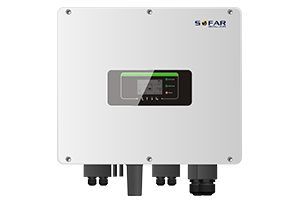 Inversores híbridos SOFAR HYD-ES
La gama de inversores SOFAR HYD-ES son unos inversores todo en uno, con cargador de baterías, inversor híbrido para autoconsumo con un rango de potencias de 3kW a 20kW y un regulador solar MPPT, además incluye un portal web para monitorizar la producción vía Internet o App, WiFi y sensor de corriente para inyección cero monofásico (para sistemas trifásicos hay que comprar un sistema de inyección cero a parte).
Son compatibles con baterías de litio Pylontech y las AMASSTORE de Sofar, además de las baterías de plomo.