PHOTOVOLTAIC MATERIAL FOR SOLAR ENERGY INSTALLATIONS

Enter the code COMPRAONLINE when confirming your purchase and benefit from an extra 1% discount that can be combined with other discounts, whatever price you have.

Promotional code only applicable to orders placed through this online platform and indicating the code in the "check order" section of your cart.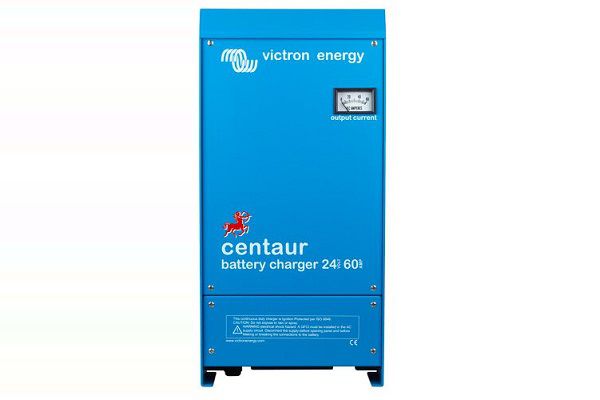 Cargadores Centaur Victron Energy
La gama de cargadores de baterías Centaur cuenta con una entrada de rango automático que cubre la entrada de 90-265VAC 50/60Hz, lo que significa que se pueden utilizar en cualquier parte del mundo.
Crucialmente, y a diferencia de muchos otros productos que establecen una entrada universal, la gama Centaur mantendrá toda la potencia de salida dentro de todo el rango especificado. Otras características incluyen la característica de carga de tres etapas totalmente automática que asegura que las baterías estén completamente cargadas cada vez y tres salidas de carga aisladas para configuraciones de múltiples baterías para adaptarse a la mayoría de las instalaciones típicas.
Abarca modelos de 12V y 24V desde 16 A hasta 100 A.

Calidad sin compromiso:
Las cajas de aluminio recubiertas de polvo epoxídico con escudo antigoteo y fijaciones de acero inoxidable soportan los rigores de un ambiente adverso: calor, humedad y aire salado.

Las placas del circuito están protegidas con una capa de acrílico para una máxima resistencia a la corrosión.

Los sensores de temperatura aseguran que los componentes de potencia siempre funcionarán dentro de los límites especificados, si es necesario reducción automática de la corriente de salida en condiciones ambientales extremas.
Rango de tensión de entrada universal de 90-265V AC y también adecuado para la alimentación de DC (funcionamiento AC-DC y DC-DC):
Todos los modelos funcionarán sin necesidad de ningún ajuste en un rango de voltaje de entrada de 90 a 265 voltios, ya sea 50 o 60 Hz.

Los cargadores también aceptan un suministro de 90-400 V DC.
Tres salidas que cada una puede suministrar la corriente de salida completa:
Tres salidas aisladas para cargar simultáneamente 3 bancos de baterías

Cada salida es capaz de suministrar toda la corriente nominal.
Carga en tres etapas, con compensación de temperatura:
El Centauro carga a granel hasta que la salida se ha reducido al 70% de los amperios nominales, a los que un temporizador de 4 horas comienza. Después del período de tiempo, el cargador cambia a velocidad de flotación.

Se utiliza un sensor de temperatura interno para compensar el voltaje de carga con - 2 mV/ºC (- 1 mV/ºF) por celda.

Un interruptor DIP está disponible para seleccionar los voltajes de carga/flotación óptimos para Plomo ácido, Gel o AGM inundados baterías.